We are committed to providing you with professional
solutions! Guided by the international and domestic markets, we will continue to develop and expand the scale of the company, improve the quality of products, and establish a complete quality assurance system and production management system. We insist that the quality standard of each product must be higher than the industry level to ensure that the product reaches a unified standard and quality.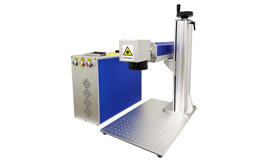 Metal Marking Machine
Model: 003
PRODUCT INFORMATION
> Without Consumables Free Maintenance
The built-in fiber laser source is practically maintenance free and absolutely reliable. Costs for consumables, spare parts or laser machine maintenance do not incur. fiber laser marking system can be used for 8-10 years without any consumables and no need to adjust the laser path.

> Long Lifetime
Fiber laser marking machine of the lifetime can reach 100,000 hours, so the machine can be used for more then 30 years. The photoelectric conversion has up to 90%, and the whole machine power is under 500w.

> Simple Operation
The software supports almost all common file formats, do not need to understand any programming language, simply set a few parameters can start marking.

> High Speed Laser Marking
The laser marking machine for metal can reach unto 0.001mm precision, the repositioning accuracy is 0.002mm, while diode only 0.01mm.
<-------- Can Move Left or Right -------->
Laser power

20W

30W

50W

Laser wavelength

1064nm

Laser type

Fiberlaser source

Max Pulse Energy

0.5m J

Repeat frequency

1KHz-1000KHz

Pulse width

6-250 ns

Marking depth

0.01-0.5mm

Marking area

110*110mm/175*175mm/200*200mm
METAL MARKING MACHINE RELATED PRODUCTS