We are committed to providing you with professional
solutions! Guided by the international and domestic markets, we will continue to develop and expand the scale of the company, improve the quality of products, and establish a complete quality assurance system and production management system. We insist that the quality standard of each product must be higher than the industry level to ensure that the product reaches a unified standard and quality.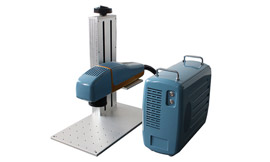 Card Marking Machine
Model: 007
PRODUCT INFORMATION
1. Manufactured by the advanced laser technology in current of the world.
2. Suitable for delicate marking, fast speed and high efficiency.
3. Could achieve high speed marking,and control the depth and shape of the facula. High electro-optic conversion efficiency.
4. With red light positioning device accurately indicates the location of the processing of the laser head, eliminate the trouble about manual positioning.
5.Integrated structure, small and compact size, easy for transportation. Long service life, up to 100000 hours.
<-------- Can Move Left or Right -------->
Marking scope of lens
CKD-SMLC-20
Optional: 100*100/150*150mm
The smaller the stronger laser when same power of laser source
CKD-SMLC-30
Optional: 100*100/150*150/200*200mm
Easy focusing
Automatically
Two red dots, focus up or down by buttons


Computer
Optional
Computer language: English as basic, you can choose your language after receiving


Marking Software
EzCad2
Language: English, Chinese, Korean, Japanese
available for Windows 7/8/10
Control Board
BJJCZ
Original newest version


Rotary
Optional
chuck diameter: 50mm
For jewelry marking
Optional
chuck diameter: 80mm
For cylinder marking
Foot switch
Standard
One way of start laser marking conveniently
Useful when batch process
CARD MARKING MACHINE RELATED PRODUCTS