We are committed to providing you with professional
solutions! Guided by the international and domestic markets, we will continue to develop and expand the scale of the company, improve the quality of products, and establish a complete quality assurance system and production management system. We insist that the quality standard of each product must be higher than the industry level to ensure that the product reaches a unified standard and quality.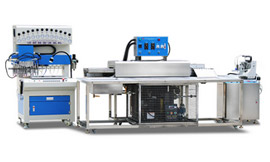 Line Marking Machine
Model: 004
PRODUCT INFORMATION
<-------- Can Move Left or Right -------->
Angle Size (mm)
56x56x4~140x140x12(Q420)
Max. workpiece length (m)
12
Max. punching capacity
(DxT mm)
Φ25.5mm x12mm
Nominal punching force (kN)
950
Nominal marking force (kN)
1030
Nominal cutting force (kN)
1800
No. of character group (piece)
4
No. of character in each character group (piece)
18
Character size (mm)
14x10x19
Range of stadia (mm)
20~170 (stepless)
* Fully automatic control, PC + QC software control, Windows 10 operating system.
* Optional CO2/FAYB/UV laser marking system with XY precision positioning and CCD+MARK precise positioning. The marking position accuracy is less than 0.02mm. (This case uses a CO2 laser)
* Can print Chinese characters, English, numbers, charts, serial numbers, LGOG, barcodes, QR codes, etc.
* Can access the shopfloor\MES system.
* Support for document import such as Geber, DXF.
* Supports marking different types of materials such as PCB, FPC, and metal shield.
* Features high quality, high yield, high stability, no production consumables.

LINE MARKING MACHINE RELATED PRODUCTS