We are committed to providing you with professional
solutions! Guided by the international and domestic markets, we will continue to develop and expand the scale of the company, improve the quality of products, and establish a complete quality assurance system and production management system. We insist that the quality standard of each product must be higher than the industry level to ensure that the product reaches a unified standard and quality.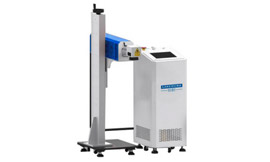 Laser Marking Machine
Model: 004
PRODUCT INFORMATION
1. The higher speed:
High-power fiber laser technology. In addition to 30W, also developed the same type of laser engraving machine maximum power - 100W new air-cooled models, significantly improves the marking speed, improve production efficiency and quality marking.

2. The depth is more suitable for carving:
Traditional scanning methods, performed with laser engraving, getting away from the focus of the working surface, the energy transfer can not fully enter the state. The dynamic marking, engraving during the process and can automatically adjust the focal length of the machined surface with the highest energy density always be engraved.
<-------- Can Move Left or Right -------->
Laser type
Fiber laser
Laser source
JPT
Galvanometer
CHINA M103 (double red focusing light and alarm lamp)
Lens
F-Theta lens (100x100mm)
Wavelength
1064nm
Max Single pulse energy
1.25mj
0.8mj
0.8mj
Pulse duration
200ns
200ns
200ns
Laser beam quality M2
<1.8
<1.5
<1.5
Frequency
1~600KHZ
1~600KHZ
1~600KHZ
Marking speed
8000mm / s
Marking Depth
0.01-1mm
Controller
EZCAD software
Control program
WINDOWS 7/8/10
LASER MARKING MACHINE RELATED PRODUCTS