We are committed to providing you with professional
solutions! Guided by the international and domestic markets, we will continue to develop and expand the scale of the company, improve the quality of products, and establish a complete quality assurance system and production management system. We insist that the quality standard of each product must be higher than the industry level to ensure that the product reaches a unified standard and quality.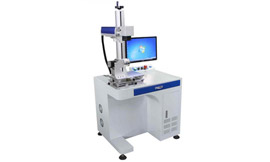 Pen Marking Machine
Model: 004
PRODUCT INFORMATION
Laser power output is stable,and light spot quality is good.Ultrahigh accuracy and fineness,with resolution up to 2540dpi.

Quick marking and cutting speed at 2-3 times that of traditional machines.

There is no restriction in operation system.It is convenient in operation,with fully closed light paths,so it is stable,reliable and free in maintenance with ultra-long service life up to more than 100,000 hours.

No pollution,no noise,and no consumable materials.

High elector-optical conversion efficiency . The gross power consumption is 500W, which is a tenth of lamp pumped solid laser marking machine, so can greatly save energy.

No need any maintenance, long life, small volume, suit for working in atrocious working conditions.
<-------- Can Move Left or Right -------->
| | | |
| --- | --- | --- |
| No. | Technical Item | Technical Parameters |
| 1 | Power Rate | 20/30/50/60/100W |
| 2 | Wavelength | 1060-1064nm |
| 3 | Beam Quality | M2 less than 1.5 |
| 4 | Min. Character | 0.05mm |
| 5 | Min. Line Width | 0.01mm |
| 6 | Repeatability | ±0.001mm |
PEN MARKING MACHINE RELATED PRODUCTS